£250.00
Training game: interactive, workshop-style introduction to Conflict Analysis.
Through expert inputs, case studies, examples and interactive exercises players develop a powerful skill set and the analytical ability to make sense of complex environments and dynamic developments that impact on aid, development and peacebuilding projects.
Single Player – Online – Windows PC, MacOS – English
Description
About the Game
In Conflict Cartography players learn to use field-tested analytical tools developed by and for those responsible for managing projects in conflict areas.
The training enables future project leaders, teams and consultants to gain a deeper understanding of the complex dynamics of conflict, anticipate developments, identify key stakeholders and make better decisions when planning and implementing projects and interventions.
The Training Curriculum & Key Learning Content
Introduction to Peace and Conflict Assessment (PCA)
Understanding Conflict
Understanding Violence and Escalation
The Conflict Analysis Toolbox:
Stakeholder Analysis (e.g. conflict mapping, social-dynamics pyramid)
Spatial Analysis (e.g. geographical analysis)
Factors for Peace and Conflict (e.g. conflict tree, pillars model)
Dynamics and Scenarios (scenario planning)
For Whom is this Game?
For students and junior professionals
and for experienced professionals new to Conflict Analysis
The Origins of 'Conflict Analysis'
The conceptual framework and methodologies of Conflict Analysis have been developed by practitioners in the field of conflict intervention, peacebuilding and development.
Their practical work has been backed up and substantiated by research all over the world.
Conflict Analysis is taught as a key skill set in university programmes and professional training. It has become a critical part of preparing professionals for challenging assignments in fragile, complex or conflict affected environments.
We will soon add a video of 'Conflict Cartography' here
Looking for Something Else?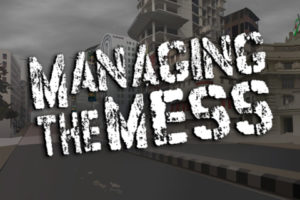 You have a basic understanding of Conflict Analysis and look for a chance to gain some experience in its practical application? You want to practice on a powerful case study for development and aid professionals and public and private sector managers operating in complex, international business environments?
You are an experienced professional working in a conflict and development context? You are looking for a comprehensive framework to prepare you for implementing complex projects in fragile environments and to get ready for senior leadership roles? Or you are looking for an engaging, practical way to learn about the Peace and Conflict Assessment (PCA)?
You are looking for a comprehensive assessment to test your and your team's ability to cope with complexity in action, identify development needs and high potentials suited for senior leadership roles?
Additional information
How to Access the Game?

The game runs online in your browser.
In addition to your confirmation email you will receive a separate email with your license key and link to the login. Use your license key to register and set up an account.
For some of our games we still do this manually hence it may take up to 24 hours to arrive.

Language

English

Platforms

Microsoft PC and MacOS

License Expiration

Your license expires 12 months after purchase.
To request a longer licensing time please contact our customer service.