£460.00
Training game and simulation.
The game combines workshop-style knowledge transfer and experiential learning through simulation. In a hands-on approach players develop a powerful skill set: the analytical ability to make sense of complex environments and dynamic developments that impact on aid, development and peacebuilding projects and the ability to plan and steer projects to success in a fragile environment shaped by conflict.
Single Player – Download – Windows PC – English
Description
About the Game
In 'Schools for the Future - Peace and Conflict Assessment' players take the role of a project manager of the International Relief Service and Development Association (IRSDA) and are assigned to lead a development project in the fictional country Karthasia.
With the country in preparation for upcoming elections and tension between different groups vying for leadership, the challenge for the player is to analyzes the conflict, socio-political and economic dynamics in the country, identify key stakeholders and plan for successful project implementation amidst dynamic change.
The Training Curriculum & Key Learning Content
Learn to use field-tested analytical tools developed by and for those responsible for managing projects in conflict areas.
Through hands-on experience and experimentation in the safe, simulated but authentic project environment this game enables senior project leaders, teams and consultants to make better decisions in project planning and implementation of development and aid projects and in peacebuilding and conflict transformation.
The Training Curriculum:
Peace and Conflict Assessment:
Conflict Analysis
Peacebuilding Needs Assessment
Peace and Conflict-Related Relevance Assessment
Risk Assessment
Peace and Conflict-Related Impact Assessment and Do-No-Harm
For Whom is this Game?
For professionals in development work and humanitarian aid, peacebuilding and conflict transformation who have field experience and are looking to lead projects or take more senior roles.
The Origins of the 'Peace and Conflict Assessment' (PCA)
The conceptual framework of the PCA was develop by leading experts for the German Gesellschaft fuer Internationale Zusammenarbeit (GIZ).
The German Federal Ministry for Economic Cooperation and Development (BMZ) has made it a requirement for all development projects in conflict affected areas.
Our team has developed this training game for GIZ in collaboration with their Peace and Conflict team in Afghanistan.
Testimonials
Colin G.
Gesellschaft fuer Internationale Zusammenarbeit (GIZ)
'Schools for the Future' is an exciting new instrument in our toolbox of training methodologies. It is very authentic, you feel the extensive field experience that has gone into the game. Also it is fun to play; this game comes with a wicket sense of humor.'
Jackie B.
Sidcot School, United Kingdom
'Our team really enjoyed playing 'Schools for the Future'. It gave us new insights especially regarding the reality of working in the field. It was inspiring and we gained new ideas for peace education programmes for our students.'
We will soon add a video of 'Schools for the Future' here
Looking for Something Else?
You look for a more introductory game for students and young professionals without prior knowledge or experience in conflict analysis?
Explore 'Conflict Cartography'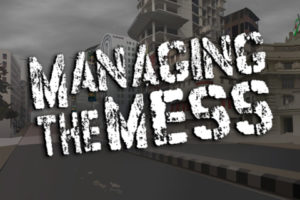 You look for practical application of Conflict Analysis in a powerful case study for development and aid professionals and public and private sector managers operating in complex, international business environments?
You are looking for a comprehensive assessment to test your and your team's ability to cope with complexity in action, identify development needs and high potentials suited for senior leadership roles?
Additional information
How to Access the Game?

You will receive a download link and license key in a separate email from your purchase confirmation email. For some of our games we still do this manually hence it may take up to 24 hours to arrive.
Once you received your access email, download and install the game and use your license key to register and set up an account.

Language

English

Platforms

Microsoft PC with Windows XP or higher

License Expiration

Your license expires 12 months after purchase.
To request a longer licensing period please contact our customer service.